HOW TO POST VIDEO CLIPS
Posting video clips has never been easier. Follow these simple steps:
1. Search for the video clip you want to post from any of the top video hosting sites (e.g. youTube, eyespot, vimeo, grouper etc.).
2. To make a wild search, just key in some keywords of what you are looking for.
3. Once you've found it, copy the EMBEDDED CODE (not the link) of the uploaded video and paste it on the message box for posting.
4. Make sure you copy the whole embedded code and has not left out any codes. To this end, it would be helpful to use the keyboard shortcut Ctrl-A to select the whole embedded code. Position/click your cursor anywhere in the embedded code and key in Ctrl-A. You can then right click the selected area and select Copy or you can key in Ctrl-C (keyboard shortcut for Copy). You can now paste the copied codes to the message box for posting.
5. In youTube, the embedded code is found on the right hand section of the video clip.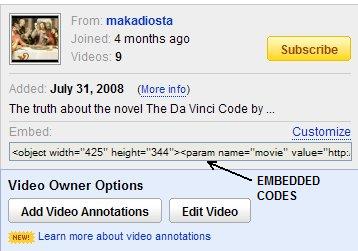 GOOD LUCK!